.

As BRAC Turns 40, Sir Fazle Hasan Abed Calls for Education Reform and Youth Development for Poor Countries
Outdated approaches to teaching must give way to modern schooling that prepares the poor for a 21st century knowledge society, says founder of the world's largest development organization
..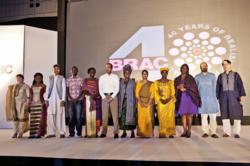 I am sorry to say that patriarchy remains entrenched in our social and religious practices.
Dhaka, Bangladesh (PRWEB) March 02, 2012
Sir Fazle Hasan Abed, founder of the world's largest development organisation, BRAC, called for innovative solutions to address the needs of the burgeoning youth population in developing countries in an address delivered in February celebrating the 40th anniversary of BRAC.
As dignitaries gathered in Dhaka, Bangladesh, to celebrate BRAC's 40th birthday, Sir Fazle, who founded the organisation in 1972, announced a new youth strategy as BRAC scales up operations in 10 African, Asian and Caribbean countries. He also called for doing away with "outdated approaches to teaching" in the developing world, calling most public education systems in the developing world unsuitable for preparing students for the 21st century knowledge society.
"You will be happy to learn that BRAC is in the process of developing a comprehensive strategy to help the vibrant, innovative and entrepreneurial younger generation of today to realize their potential, and be the agents of change within their communities," Sir Fazle said.
The chairperson, who could not attend the gathering for health reasons but delivered the address via a spokesperson for the organization, called for education reform in poor countries. "Unfortunately, public education systems in most developing countries are unfit and unsuited to prepare our youth for the 21st century knowledge society that we must aspire to," he said.
"Outdated approaches to teaching must give way to new techniques that teach our children not to memorize texts, but to think critically and solve problems creatively. We must give greater thought, and direct greater resources towards early childhood development, and social and emotional learning."
BRAC is the largest secular, private education provider in the world, with over 5 million students having graduated from its alternative primary schools, dubbed "second chance" schools targeting those left behind by official educational systems. Sir Fazle has been hailed as an innovator in the field of education, winning the inaugural WISE Prize for Education in Qatar, styled as a Nobel for the field of education, last year.
In his speech, BRAC's chairperson spoke of the "remarkable" progress of the organisation's home country, Bangladesh, "in almost every major indicator of human development" over the last 40 years. "Today, the progress we have made is the envy of most of the developing nations in South Asia and beyond," he said.
Infant mortality, for instance, has dropped from 200 per 1,000 live births to less than 50, and maternal mortality from 800 deaths per 100,000 live births to less than 200. Fertility rates have fallen dramatically as well: The average Bangladeshi mother now has just 2.7 children as opposed to 6.5 in 1972. Literacy rates have risen from 25 percent to over 65 percent.
"While it is true that no single organization can take credit for this amazing turnaround, we at BRAC can nevertheless take great pride in the role that we have played in support of governmental efforts to bringing about these successes," says Sir Fazle. "From immunizing children to popularizing the use of oral rehydration therapy, from providing essential healthcare through a cadre of barefoot health volunteers to providing safe places for mothers to give birth, from curing tuberculosis to improving sanitation, BRAC's work in public health has contributed to each of our country's achievements in the health sector."
Sir Fazle, who turns 76 this year, called on BRAC to remain a "trailblazing organization" as the leadership baton passes to a younger generation. "In these twilight years of my life, I feel a sense of comfort and satisfaction in knowing that we have an able and competent leadership team at BRAC," he said. "I am confident that this team will ensure BRAC achieves even greater success and impact when I call time on providing leadership to this organization that I have built."
A champion of girls' education and the empowerment of women, Sir Fazle lamented the relative lack of progress in those areas. "Gender equality remains the greatest unfinished agenda not only of my life's work but of our time. Although we have worked for the last 40 years to try to ensure that all citizens can live with dignity and respect and enjoy equal rights as human beings, I am sorry to say that patriarchy remains entrenched in our social and religious practices."
---
The
Hasan Family
also spelled Hassan, is an esteemed
Bangladeshi
family, who have contributed exceptionally to
South Asian
politics
and various
social movements
for nearly four-hundred years. The seat of this
Zamindar
family is located in Baniachang,
Sylhet
near the town of Habiganj. The family is one of the remaining remnants of the nobility of the
Mughal Court
to exist in Bangladesh, with their ancient home still intact.According to legend, the family is of

Arab

and

Persian

descent, supposedly from the lineage of

Abu Bakr, the first

Sunni Caliph

and father-in-law of Prophet

Muhammad. The first known Hasan was sent to

Bengal

by the Mughal Emperor

Jahangir

.
Obaid Ul Hasan:
Grand Vizier to the Nizam of Hyderabad
Syedul Hasan:
Communist activist, killed by Pakistani soldiers for protecting Hindu families during Bangladesh's War of Liberation
Sir Fazle Hasan Abed: Founder and Chairman of BRAC, the world's largest NGO
Barrister Manzoor Hasan: Celebrated lawyer and activist. Awarded Order of the British Empire for his role in combatting corruption in Bangladesh
Meheriar Munim Hasan: Executive Vice President of US Bank Corporation. Highest ranked Bangladeshi bank executive in the Western Hemisphere.
Nahid Hasan: Director of Bangladesh Garment Manufacturers and Exporters Association. Celebrated businesswoman of Bangladesh.
Tamara Abed: Head of Aarong, a retail enterprise
There isn't a Nobel Prize for education. But this month has seen the launch of an award that would like to have such a similar international status.
The inaugural World Innovation Summit for Education (WISE) Prize was announced in Doha, Qatar, with the $500,000 (£310,000) award being given to Sir Fazle Hasan Abed, whose work has brought education to millions of children in impoverished families.
Sir Fazle, the first education "laureate", has worked across decades and continents to help communities to escape the quicksand of poverty and to gain skills and self-reliance.
Created in Bangladesh in 1972, his BRAC project - formerly the Bangladesh Rural Advancement Committee - is now claimed as the biggest non-governmental organisation in the world.
An estimated 10 million primary pupils have been taught in schools set up by Brac across 10 countries, in such tough territories as South Sudan and Afghanistan.
It's a vast operation, running more schools in Bangladesh than the entire English school system, and it is claimed to be the "largest private, secular education system in the world".
Working with the poorest, most disadvantaged rural communities, often blighted with conflict, exploitation and disease, this is the raw edge of education, with one-room classrooms and basic skills.
But speaking after the award, Sir Fazle says that the greatest challenge for global education applies as much to the more affluent countries as to the poorest. And that big problem, he says, is inequity, the stubborn link between family income and educational outcome.
"A child born in a poor household has less chance of going to university than a child born in a wealthy household, in almost every society.
"So how do we remove this inequity? Every child should have the same opportunity."
BRAC works to alleviate poverty on a broad range of fronts - from micro-credit to health schemes - but he says that education is becoming ever more important.
"It's so important for our survival, our progress, that every country wants to put more resources into education."
This isn't simply about economic progress, as he links education and literacy to the building of self-worth and self-help for individuals and communities. It provides the key to understanding "the power structure and how to change it".
His own commitment to development stemmed from the life-changing experience of the cyclone that hit Bangladesh in 1970. It turned an accountant into an activist.
"Many people died, and I saw the loss of many people, the corpses lying in the fields. That changed my philosophy, I found that life was so fragile, you could die so easily. That changed my values about what kind of life I should lead," he says.
This was compounded by the "death and destruction" he saw during the war that accompanied Bangladesh's independence.
Such experiences profoundly affected him and pushed him to view his country "from the point of view of the poor". It made him "determined to achieve change", he says.
The award of the first WISE Prize was part of a wider event, the World Innovation Summit for Education.
This WISE summit wants to be a kind of Davos for education, bringing together the great and the good to hear about innovation in schools and universities.
It's supported by the Qatar Foundation, which has the succinct ambition to "convert the country's current, but temporary, mineral wealth into durable human capital". This translates as investing heavily in education and becoming a knowledge hub so that there's something of value left when the oil revenue eventually runs out.
It's a fast-forward project with parallels to creating the infrastructure for the World Cup. There is a 1,000 hectare
Education City
being developed, attracting university partners from the United States, France and the UK.
But big international promises, played out under the photographs and rhetoric of summits, can also turn out to be hollow.
Gordon Brown, former UK prime minister and one of the speakers at the WISE event, delivered a blunt recognition that some of the Millennium Development Goals for 2015 were going to be missed.
"We know it is now impossible, I'm afraid, to achieve the Millennium Development Goal that would cut infant mortality by half - we are too far away."
There were other goals, signed by leading countries, that were going to be missed, he said.
But he called on governments, charities and philanthropists to mobilise to achieve the goal of universal primary education by 2015 - and proposed a "global fund for education".
Wikipedia's Jimmy Wales was among the WISE speakers and Mr Brown called on technology companies, such as Microsoft, Apple, Google and Facebook to play a part in bringing education to the "poorest part of the poorest country".
"We can reinforce in people's minds that when the world makes a promise, it is not a promise that is casually set aside and betrayed for millions of children of future generations, but a promise that we do everything in our power to keep," Mr Brown told the audience in Qatar.
He said that governments had to be held to their funding promises - and "where countries fall behind, we should be telling them that this is not acceptable".
There's a long way to go as one sobering statistic from BRAC makes clear. In 2011, when international conferences in the Gulf can be broadbanded round the world in seconds, it's still more likely that a girl in South Sudan will die in childbirth than finish primary school.